Nervous About Going Back to Work? So Are Your Employees.
Although there are signs that the number of U.S. cases of coronavirus may be leveling off, there is another health problem that won't be going away anytime soon—stress. All 50 states have started easing coronavirus-related restrictions, meaning more businesses are reopening, and more employees are returning to work. However, the fact that workplaces are reopening doesn't mean COVID-19 will be gone, nor the concerns that surround it.
While some employees might be excited to return to work, others might experience higher levels of anxiety, as they'll now be at a higher risk of exposure to the virus compared to employees who continue to work from home. New data from mental health provider, Ginger, shows how workers' stress levels have increased significantly since the onset of COVID-19.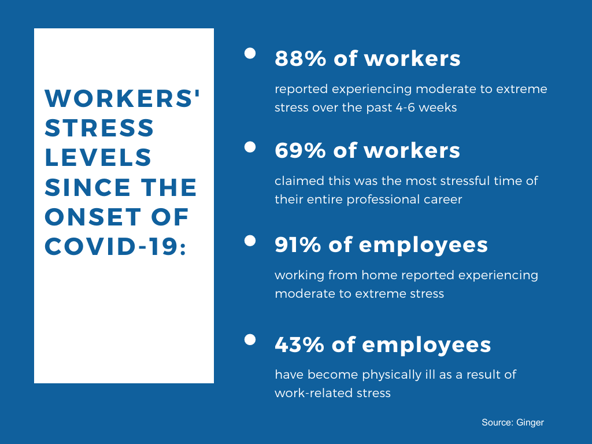 Mental health provider Ginger reported that U.S. workers were stressed before COVID-19; now, stress levels are through the roof.
.
While there is an obvious need to focus on chronic illness and maintain physical health to combat COVID-19, all areas of an employees' well-being—mental, emotional, financial, and social, are equally important. As an employer, it is critical to have tools ready and available to support an employee in all of these aspects of well-being, regardless of how healthy or unhealthy they are.
Here are some of the ways TargetCare is helping clients and their employees with lowering stress and supporting wellbeing:
On an individual level...
Assisting with Healthcare Navigation: TargetCare Providers ensure employees are getting the proper mental health support, whether that means utilizing EAP programs and online tools that are currently available through the company's medical carrier, and/or connecting them to an in-network psychologist or psychiatrist.
Offering Emotional Health Outreach: TargetCare providers reach out directly to employees based on their answers to emotional health screening questions that are administered through Clinical Health Assessments. Providers help employees get the proper care, according to their EAP, in-network providers, etc.
Utilizing our COVID-19 Hotline: Employees can speak one-on-one with a trusted healthcare professional. TargetCare providers are available to answer any COVID-19-related questions, offer education and advice, perform symptom triage and provide emotional support for those suffering with stress and anxiety.
Providing a Comprehensive 12-week Program: Programs engage employees through interactive group sessions, educational content, and private sessions. Topics include Stress Management, Diabetes Management, Tobacco Cessation and more.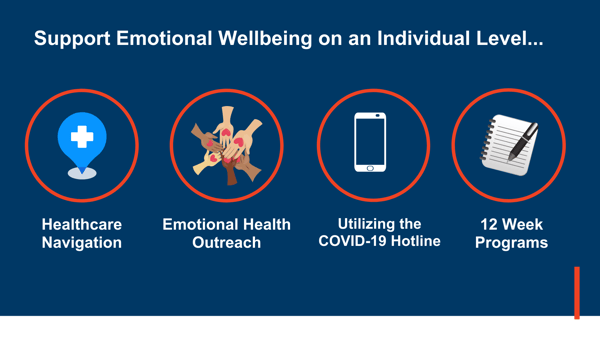 On a cultural level...
Distribute Health Content Around COVID-19: Make sure employees know you're taking the proper precautions, including having the proper PPE, enforcing social distancing measures, encouraging face masks, placing hand sanitizer in common areas, etc. Create educational visuals via digital and print flyers, email newsletters, etc., to ensure employees are receiving the proper messaging around COVID-19 and how you're keeping the workplace safe.
Hosting Healthy Break Stations: Designate time at onsite clinics to educate employees on health topics such as stress management, financial awareness, time management, etc. This gives employees time to get to know their TargetCare providers and ask questions about their personal health.

Implementing Wellness Challenges: Engage employees through team or individual competitions, interactive and educational content, and motivating prizes. These challenges support social well-being and mental health by maintaining connections with coworkers, encouraging camaraderie, and providing a sense of structure to employees' health goals.


Hosting Lunch and Learns: Topics include stress management, financial awareness, how to get better sleep, and more. These can all be done onsite if space for social distancing allows, or through a webinar format.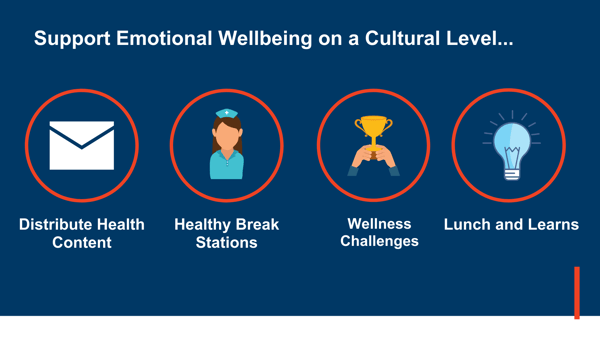 ---
By utilizing a combination of these solutions, businesses can better equip workers with the health, financial, and personal concerns they are all likely to encounter for as long as the coronavirus persists. Overall, supporting your population with these benefits can result in a happier, healthier, more productive workforce.
Learn how TargetCare can help you design a holistic workplace wellness program that works for both your company and your employees.