Most workplace healthcare programs focus on addressing and preventing workplace injuries and illness. But our health and well-being can be impacted by the many external factors we face when we return to our communities. Where we spend the other majority of our time, at home, is when we're exposed to many factors impacting our health; ranging from our safety and personal relationships down to the quality of our water and air. For an onsite healthcare program to be successful, it must take into consideration all the environments that its participants are exposed to, to provide a more impactful and customized care experience.
What are social determinants of health?
Social determinants of health, or SDOH, are environmental conditions that affect an individuals' health and quality of life. These demographic-based factors serve as underlying contributors to multiple health conditions. When providers are addressing the health of their patients, they need to consider the underlying environmental factors that could be causing symptoms and diseases, or impacting the ability to get health. Some of the factors could be:
Safe housing and transportation

Racism, discrimination and violence

Education

Access to nutritious foods

Physical activity opportunities

Polluted air and water

Language and literacy

Culture and lifestyle
Social determinants of health can give providers an explanation for how and why patients are successful in or failing to manage their health. In looking at the entire health journey of an individual, factoring in social determinants of health might explain gaps in care or reasons for a lack of improvement.
More specifically, to determine what SDOH are impacting an employee population, employers and vendor partners can utilize an Area Deprivation Index, or ADI. Searching the zip code of an area provides a gauge on how disadvantaged the individuals that reside there might be. The 1-10 scale of SDOH matches color to region, with the higher number being the most disadvantaged. This exploratory research can guide services and initiatives and reveal how disadvantaged an employee population might be in terms of access to health resources.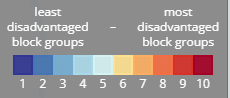 How do SDOH relate to an employers commitment to providing workplace care for their employees?
The happier and healthier an employee is, the more productive they are in all aspects of their life: including the workplace. An employer's role is to provide their organization and its employees with access to resources that will improve their overall well-being. When an employer takes into consideration SDOH and how different factors might impact different employee's health journeys, they're better able to provide care and coverage. Their whole person approach to healthcare provides a more comprehensive and successful delivery of care.
Addressing SDOH at the workplace can be reflected in establishing an onsite health center, where employees can see an onsite provider for acute care needs, lifestyle coaching, and care navigation. This breaks down the transportation and financial barriers to care, by providing immediate health assistance and education at the workplace with no copays or travel time.
Conducting annual biometric screenings and distributing health questionnaires with questions about topics like alcohol intake, tobacco usage, and daily fitness activity provides employers with background information on their participants. These insights can guide employers, providers, and vendor partners on what to focus on in the workplace program. For example, knowing an employee population has poor health literacy might spark a campaign focused on key health terminology education and awareness. In addition, understanding the factors impacting a population's health journey can guide one-on-one review appointments and ongoing health coaching.
Employers can also address SDOH at the workplace by offering employee assistance programs, or EAPs. EAPs are designed to assist employees in resolving personal problems by offering counseling, referrals and follow-up services to employees. While these may be available to employees, they might not know how to begin taking advantage of them. This is another example of how onsite healthcare, and having the presence of a provider, can serve as a bridge to close gaps in care and assist participants in navigating their health benefits.
How does TargetCare incorporate social determinants of health in our onsite programs?
At TargetCare, we incorporate these determinants in all aspects of our services. Through annual biometric screenings, we're able to capture background information on our employee population, which in turn guides our internal wellness initiatives and campaigns. Through one-on-one coaching and clinic appointments, the providers focus on building relationships with patients in order to better diagnose and provide achievable health improvement suggestions, based on what might be contributing outside the workplace.
Understanding and incorporating SDOH in onsite benefit offerings provides employees with a more tailored healthcare experience. When employers, providers, and vendor partners take the time to understand what factors might be contributing to an individual's healthcare journey, they're better able to provide services and solutions to improve their overall well-being.