TargetCare Is Here To Help: COVID-19 Support
Maintaining Our Proactive Approach In Response To COVID-19
Being in the field of disease prevention, it's important that TargetCare take proactive measures to protect the health of the employees and families of our clients.
We want to do our part to help "flatten the curve" of the spread of the virus. In response to the current COVID-19 crisis, TargetCare is temporarily offering telemedicine, virtual health services, and emotional support. TargetCare is providing our clients with expanded access to our network of trusted healthcare professionals. Our large team of nurses, nurse practitioners, and physician assistants will be available exclusively to employees to serve their immediate needs.
To increase access for employees, the available times for these telemedicine, virtual health, and emotional support service appointments will extend beyond the normally scheduled coaching or clinic services and into the evenings as well to provide broad access to employees.
Is access to telehealth enough during COVID-19?
That depends entirely on which telehealth provider you are utilizing at this point. Popular carrier telehealth programs are seeing minimums of 40-50 people in each virtual waiting room as of early last week. Employees are scrambling to set-up and navigate online telehealth accounts and portals. The current surge in patients is seeming to overwhelm certain telehealth service providers amid the coronavirus pandemic.


Fortunately, TargetCare's telemedicine, virtual health, and emotional support services are being offered exclusively to our clients, giving employees convenient access to their respective healthcare providers during this time. TargetCare's internal team is providing a high level of assistance and support with scheduling for employees to minimize wait times and eliminate the barriers associated with requiring account set-up. TargetCare is committed to providing our clients with the expertise, support and resources they need during this time of uncertainty.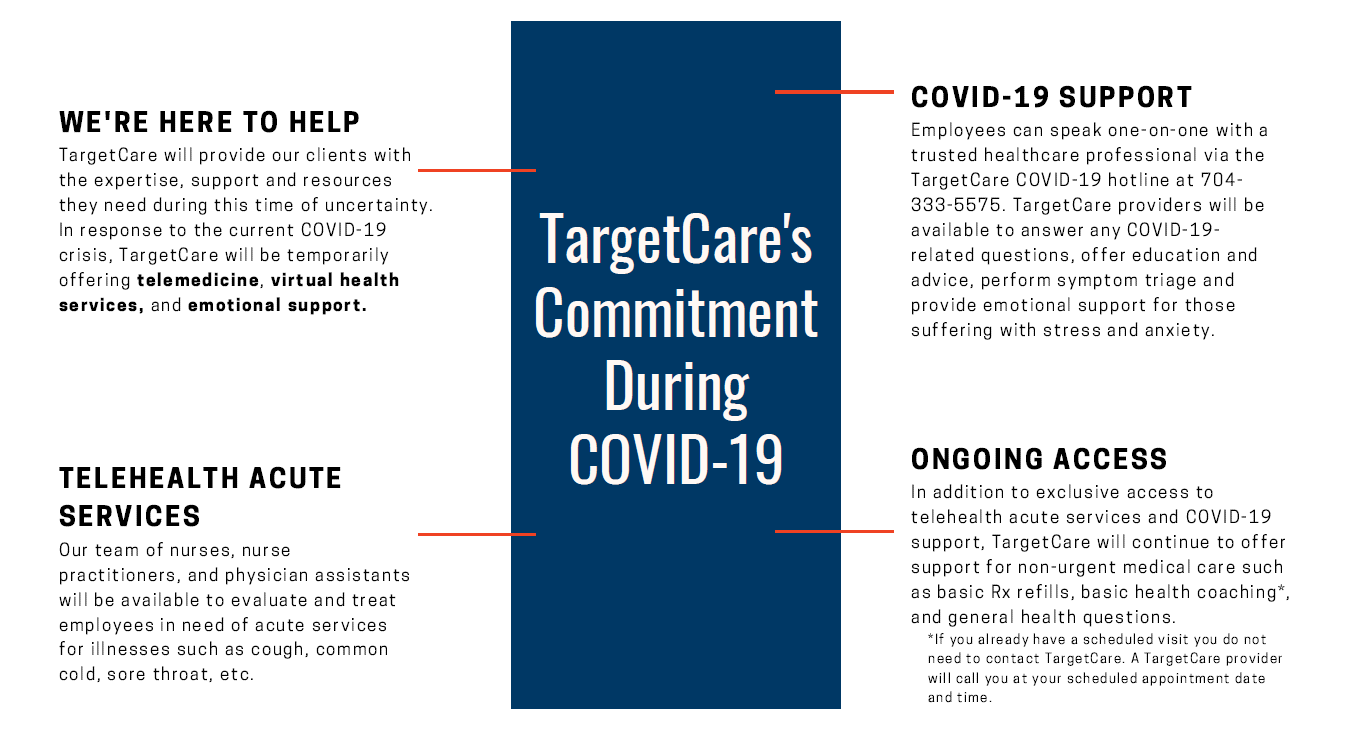 Looking to implement a comprehensive COVID-19 solution at your workplace? Learn how TargetCare can help!