When is the Right Time to Start a Health and Wellness Program?
Over the past 15 years, this has been one of the most asked questions by companies all over.
There's a common misconception that wellness programs must or should be included in open enrollment, like other standard benefits, such as a short-term disability plan or a new dental program. Wellness is so much more than giving employees "just another benefit," rather, it's about transforming the culture and direction of your company from the inside!
The time to start a health and wellness program is now -- yesterday, even! The sooner you implement a program, the sooner you unlock the vast potential of your employees and your company.
Wellness initiatives can be rolled out anytime of the year. In fact, they should be launched when your company leadership has the time to properly plan for and communicate the program. Ideally, you implement wellness at a different time than open enrollment, so as to avoid the disruption and chaos that often surrounds open enrollment season. A wellness initiative will have long-lasting, positive effects on your employees and company. Therefore, it's best to announce the initiative when there aren't distractions. Doing so will help ensure that your employees fully understand all of the "why's" behind this important change.
---
T
op 3 reasons why NOW is the time to invest in wellness for your company:
Reason #1: Healthcare costs continue to rise.
According to a 2019 study by the American Medical Association, in 2017, U.S. healthcare costs reached $3.5 trillion, about $10,739 per person. It's estimated that by 2027, these costs will rise to $5.9 trillion, nearly $17,000 per person. There are several factors driving this growth:
Healthcare inflation. Factors such as drug prices, hospital care and new diagnostic procedures are causing healthcare costs to rise faster than other consumable goods and services.
Increased demand. The direct advertising of drugs and medical procedures to consumers, evolution of new treatments and therapies, and cost shifting from consumers to private insurance or Medicare/Medicaid are driving increases in healthcare demand.
Prevalence of chronic disease. Aside from unintentional injuries, the CDC reported heart disease, cancer, chronic lower respiratory diseases and stroke as the leading causes of death in the U.S. in 2017. These chronic diseases cost an extra $7,900 per person, per year-- that's five times more than the average healthcare costs of a healthy person.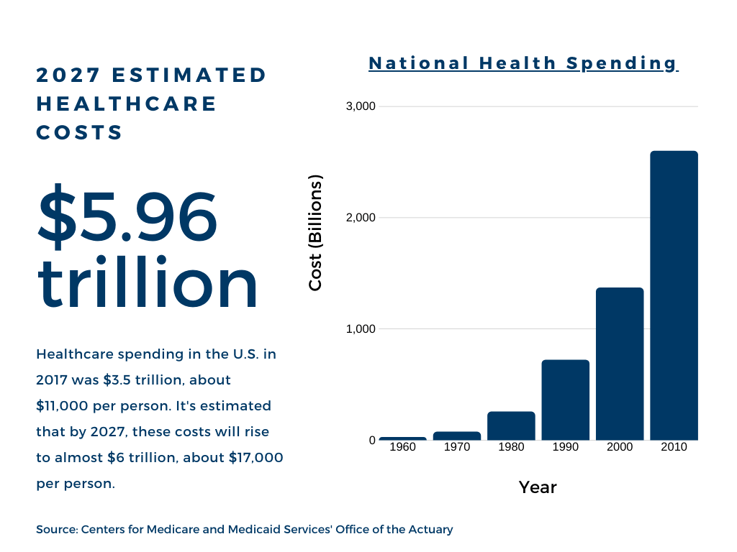 The U.S. is projected to spend $5.96 trillion on healthcare in 2027, according to a 2019 report from the Centers for Medicare and Medicaid Services' Office of the Actuary, which was published in Health Affairs.
As an employer, you may believe there's nothing you can do to combat rising healthcare costs and the negative tolls they take on your company's bottom line. While you can't necessarily change the upward trends in healthcare costs, you can-- to some degree-- control your employees' consumption of healthcare. By implementing a wellness program, you help employees detect an illness before it gets out of control, give them access to low-cost healthcare and guide them to more efficient and effective treatments.
Reason #2: Company culture is affected by your employees' unhealthy habits.
Unhealthy employees' unhealthy habits will continue to escalate if they're not addressed, leaving the company with a less productive, chronically ill workforce. If they don't have any guidance, employees will continue to engage in unhealthy sleep, diet, and exercise habits, increasing their risk for chronic disease and the development of mental health issues related to stress and anxiety. However, the support and education of a proactive wellness program can decrease these risks and leave you with a happier, healthier, more productive workforce.
Further, investing in employee well-being can also help you drive engagement, company culture and recruitment. According to an employee survey by Virgin Pulse:
87% stated wellness positively impacts work culture

88% stated having health and wellness programs designates an organization as an "employer of choice"

96% stated they participate to improve their own health, making improved health a bigger motivator than financial incentives
The bottom line is that offering a holistic, robust wellness program can help you stand out as an employer. Your company will thrive by attracting, engaging, and retaining top talent.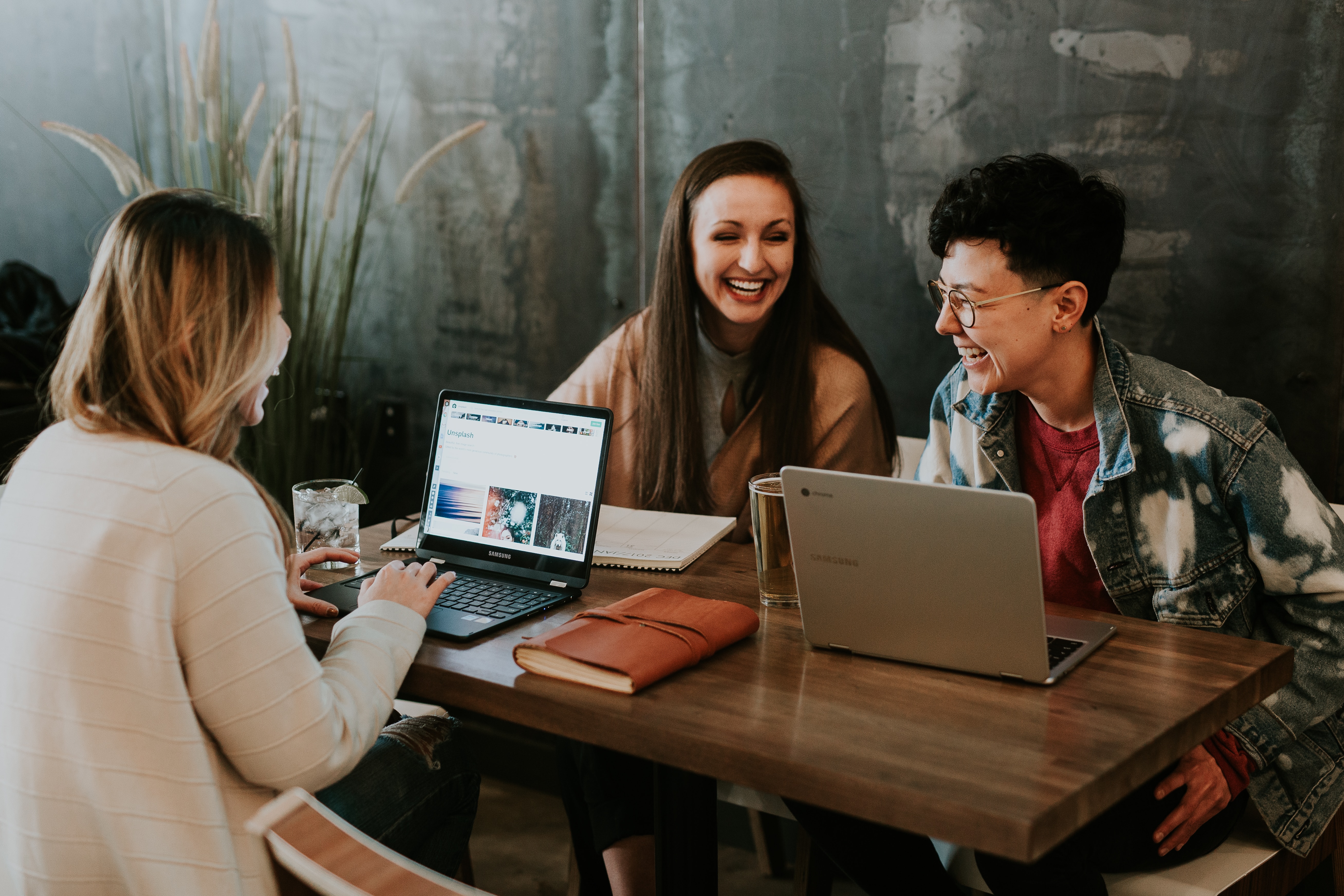 Reason #3: Now is the best time to invest in your greatest asset- your employees.
There's no better time to show your employees you care then right now. Aside from addressing high healthcare costs and saving money, investing in your employee's health and well-being is simply the right thing to do. Your employees are your greatest asset, so why wait to unlock their full potential?
The graph below compares the average trends in medical claims for the U.S., to the average trends in medical claims for a specific TargetCare client. Health and wellness have the potential to lower your healthcare costs instead of allowing them to continuously increase.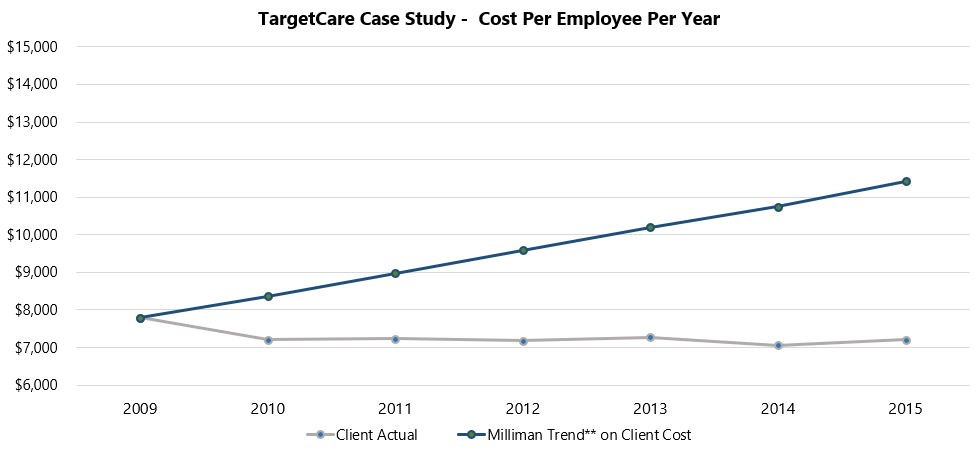 Here's where some of the above savings came from: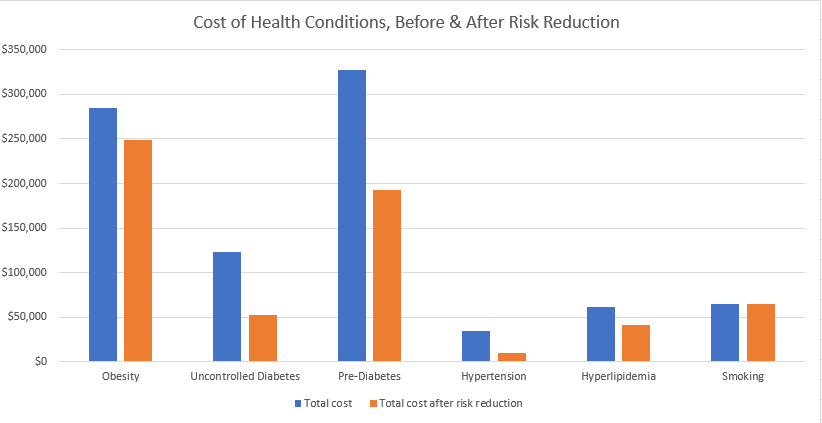 ---
The time to invest in wellness is now. Not only will you change the trajectory of your rising healthcare costs and company culture, you'll show your people you care—which is crucial for the success of both your employees and your company's bottom line.
Learn more about how wellness programs benefit both your company and employees by

downloading our guide

today.