With so much having happened over the past year and a half, there is a chance your company's wellness plans fell to the backburner. The fact is, now more than ever, employers are turning to wellness as a solution to problems involving healthcare costs, employee engagement, and a tight labor market. As an employer, it's important to know where other companies are investing their time and money so you don't fall behind. In this blog, we'll tell you what employers are focusing on in 2021, the areas of wellness they're investing in, and why.
1. Using wellness/well-being as a business objective
According to the 2021 Wellness Trends Report by Shortlister, employers are placing a higher priority on wellness as a business objective more than they have in the past. While this has been a growing trend over the past several years, the pandemic has solidified the need to place emphasis on wellness at the workplace to address problems such as rising healthcare costs.
Percent of benefit consultant clients whose clients are doing "more," "less," or the "same" of prioritizing wellness/well-being as a business objective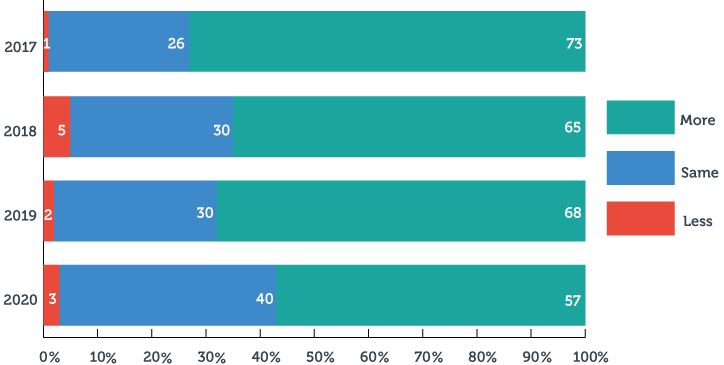 Shortlister; Wellness Trends 2021: Report Overview
The report also found that mobile apps are a priority, as are platform or hub technologies that act as the "front door" for employees to access benefit related information and resources.
It's important to note the emphasis on this technology being utilized as a "front door" and a way to offer accessibility to additional resources. While apps and platforms are key aspects of a wellness program, they alone are not the solution. Data has shown standalone technology options aren't enough to inspire real behavior change. If you're going to use wellness as a business strategy, make sure you have just that-- a strategy. Partnering with a vendor can be a great option if you're looking for assistance in mapping out a long-term strategy. In addition, working with a partner gives you access to expertise, actual data and benchmarking--without having to do the heavy lifting.
2. Implementing wellness via a third party vendor
Companies are turning to outside wellness vendors rather than using internal resources. Employers are doing more of the "same" of this in 2020 than in any other year, which shows that hiring an outside vendor is becoming the norm. If you aren't considering hiring an outside vendor over using internal resources or a carrier program, you should be.
Percent of benefit consultant clients whose clients are doing "more," "less," or the "same" of implementing wellness via a third-party vendor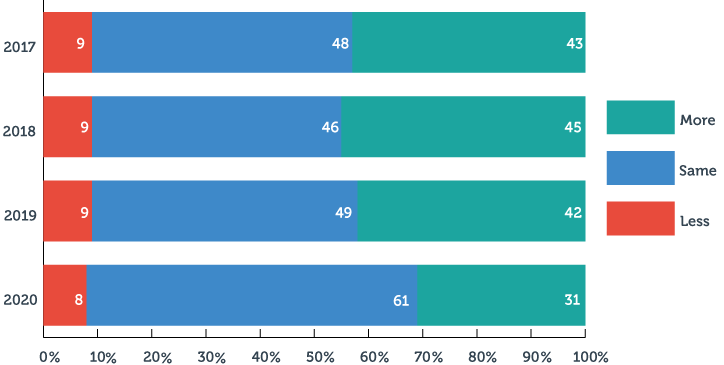 Shortlister; Wellness Trends 2021: Report Overview
The report also had consultants identify the top six obstacles to successful wellness program rollouts, which were:
Internal communications strategy

Integration across solutions

Employee awareness of capabilities
HR administration burden
Complexity of technology for employees
Multiple logins for employees
These challenges contribute to building the case for hiring an outside vendor, who handles these kinds of things for you. A successful third-party vendor will hold your hand throughout the process and provide things like a communication strategy, implementation strategy, and ongoing reporting that helps take the burden off of HR and make the program run smoothly.
3. Buying and implementing telehealth, EAP, and behavioral health/mental health solutions
Employers are "actively buying and implementing" solutions that enable wellness despite our new normal (telehealth) or those that tackle health issues worsened by the pandemic (mental well-being).
Percent of benefit consultant clients whose clients are "Actively Buying and Implementing," "Kicking the Tires," or "Not Buying" Different Wellness Solutions

Shortlister; Wellness Trends 2021: Report Overview
It's important to look for a partner who can offer a variety of mental health options that fit into the big-picture wellness strategy. Depending on your budget, readiness to invest, and the level of which you'd like to address mental health, there are several types of solutions to look at. When doing so, it's essential to seek solutions that can be customizable and built upon over the course of your long-term wellness strategy. Whether it's a guided, intensive 12-week stress management program, access to mental/behavioral health webinars and online courses, telephonic counseling, or an actual onsite counselor, there are so many ways to address mental health at the workplace.
The pandemic changed many aspects of our lives, especially the way we work. As we were forced into an environment where the boundaries between work and life were blurred, employers were forced to have a better understanding of the humanity of their workforce and are now making an effort to create workplaces that acknowledge all aspects of employee well-being. Employers that can evolve to the new needs of employees and use wellness as a business strategy will give themselves a massive competitive advantage in 2021 and beyond.