Putting Off Your Mammogram? These places offer free screenings.
With millions of Americans avoiding the doctor's office during the COVID-19 pandemic, experts have seen a drop in regular breast cancer screening tests, including mammograms, ultrasounds and MRIs. There is concern that even after the pandemic is over, there could be a new wave of cancer diagnoses. Now that it's been months into the pandemic and the medical community has processes in place to maximize safety, hospitals and doctor's offices are among the safest places to be. If you've been putting off getting your mammogram and/or other routine preventive screenings, now is the time to get back on track.
A mammogram is a non-invasive X-ray used to check breasts for breast cancer and other abnormalities. Mammograms can detect cancer early-- when most treatable--long before it can be felt. In fact, mammograms can usually find lumps 2 or 3 years before a woman or her primary care provider can feel them. This improves odds of survival and can help avoid more expensive treatment.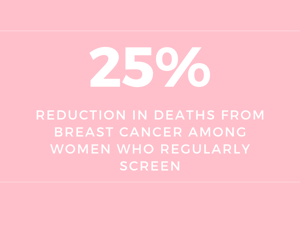 How often should you get screened? The American Cancer Society has guidelines around the frequency of mammograms, based on age:
Women ages 40 to 44 should have the choice to start annual breast cancer screening with mammograms if they wish to do so.
Women ages 45 to 54 should get mammograms every year.
Women 55 and older should switch to mammograms every 2 years, or can continue yearly screening.
Some women, because of their family history, a genetic tendency, or other certain factors, should be screened with MRIs along with mammograms. However, the number of women who fall into this category is very small. Talk with a health care provider about your risk for breast cancer and the best screening plan for you.
As we enter the last week of Breast Cancer Awareness Month, now is a great reminder to get back to breast self-exams and schedule your mammogram as soon as possible.
Due to the number of delayed or canceled screenings, some people in certain areas might experience a considerable backlog when trying to book an appointment. It's important to remember not to panic. Simply sign up for the next available slot.
In the meantime, here are some steps you can take to reduce your risk of developing breast cancer:
Control your weight and exercise regularly. Make healthy choices in the foods you eat and the kinds of drinks you have each day. Stay active.
Know your family history. If you have a mother, sister or daughter with breast cancer, ask your doctor about your own risk.
Find out the risks and benefits of Hormone Replacement Therapy (HRT). Some women use HRT to treat symptoms of menopause. Ask your doctor about the risks and benefits of HRT and find out if it is right for you.
Limit the amount of alcohol you drink. This means one drink a day for women.
Concerned about where and how to get screened? These locations offer free or low-cost mammograms.
Cost should never get in the way of preventive care. Click here for a compiled list of clinics and facilities that provide mammograms and other diagnostic procedures for women at little or no cost. You can filter by state and city to find the closest location near you.
If you are experiencing one or more of the following symptoms, speak with your doctor immediately- these are signs you need to go in sooner rather than later:
Any change in the breast, whether a new lump or discharge from the nipple

Nipple retraction or new dimpling on the skin

An area of redness that won't go away

Swollen Area under the arms
If you've been putting off getting your mammogram and other preventive screenings due to COVID-19, cost, or other reasons, now is the time to get back on track. Early detection is key for improving odds of survival and avoiding more expensive treatment. Receiving annual screenings, knowing your personal risk, and understanding the steps you can take to reduce that risk, will help you stay on top of your health and prevent any serious conditions from worsening.